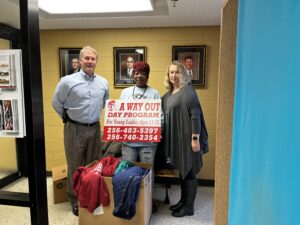 Keeping Women Warm this Winter
November 24, 2021
Calhoun County Commissioner of Licenses, Barry E. Robertson, presents Claudia Elston with a donation of coats, jackets, gloves, hats, and scarves for the the 4th Annual Coats for the Homeless.
Calhoun County Administration employees have been gathering the donations for a couple of months. Misty Clayton, (picture-right) coordinated the drop off.
A Way Out Day Program provides troubled young women with a variety of programs and services in the community.