As of July 2009, HULL IDENTIFICATION NUMBERS ARE REQUIRED
FOR MANUFACTURED VESSELS:
All vessels manufactured after 1972 are required by Federal Law to have a hull identification number affixed to the vessel by the manufacturer. This 12 digit number is normally located on the outside stern of the vessel on the right side, below the gunwale. This number must be included on the registration certificate and application for registration.
The boat registrant must present a bill of sale with the 12-digit hull identification number at the time of registration.
Any boat registration which lacks a 12-digit hull identification number where one is required will not be renewed without proof of the proper identification number.
Boat owners with vessels manufactured after 1972 shall apply with the Marine Police Division for a hull serial number, which will be affixed to the transom of their boat. Contact the Alabama Department of Conservation, the Marine Police Division at 1-800-272-7930.
WHEN TO APPLY
There is a 72 hour grace period for the registration of a new boat/vessel.
If you buy a used boat that is currently registered with this state, you must make application for transfer within 15 days.
Used boats will not be registered without 12-digit hull id number and Alabama registration number. The only exception to the hull id rule is for boats manufactured in 1972 or before.
If you purchase a used boat with an expired registration, you must currently register the boat before it is driven.
If you purchase a boat that was used for rental purposes, the old number will have to be removed from the boat and a new one issued. No transfer will be necessary in this case.
Boat Trailers are considered as units with the boat and are figured into the price of the boat. The trailer is not required to be tagged.  A registrant may request a tag for a boat trailer only if he is travelling across state lines. 
**There is no grace period for registration of a used boat.**
FEES
First Registration and Renewal
Class I $25.00 Less than 16'
Class II $30.00 16' but less than 26'
Class III $80.00 26' but less than 40'
Class IV $105.00 40' and over
Transfer – $3.00 plus $2.00 issuance fee plus any applicable sales tax.
(Applies to vessels with a current year registration but needs to be transferred into new owner's name.)
Transfer/Renewal – $3.00 plus $2.00 issuance fee and the correct class fee plus any applicable sales tax. Applies to vessels with no current registration that needs to be transferred into new owner's name.
Sales Tax – Sales tax rates range from 3.5% to 6% depending on the registration address. Sales tax should be paid in the county in which the boat is housed. Please contact the Boat Department at the Commissioner of License Office at 256 241 2900 or by emailing bwaters@calhouncounty.org for more information.
Any sales tax collected from a boat dealership shall be presented at the time of registration on an itemized bill of sale.
Individuals are not licensed to collect sales tax. 
**When registering a boat purchased from an individual registrants must provide proof of previous owner's registration and a bill of sale. **
 Bills of sale from individuals shall list:
 The boat (including AL registration number and hull identification number)
The name, address, and signature of the seller.
The date of the sale.
The price of the sale. including the trailer and any other accessories such as life jackets and fishing equipment separately. 
Sales tax will be collected at the time of registration.
NOTE: IF YOUR VESSEL IS BROUGHT INTO ALABAMA FROM ANOTHER STATE, THERE WILL BE NO TRANSFER FEE CHARGED, A NEW ALABAMA NUMBER WILL BE ISSUED. ALSO, **IF PREVIOUSLY REGISTERED IN ANOTHER STATE, PLEASE SURRENDER LAST STATE REGISTRATION**
Duplicates-$5.00 (certificate has either been lost or destroyed). This applies to registration certificates as well as replacement decals.
Distinctive Vessel Registrations– Distinctive vessel registration numbers may also be purchased when registering a boat.  Many organizations are participating. In addition to universities, registrants may also choose to support Breast Cancer Research, Autism Society, or National Wild Turkey Foundation and many more.  The cost is $50.00 additional, and the donation is tax deductible.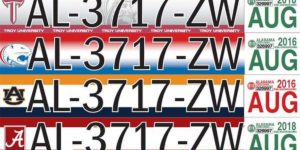 RENEWALS
An Alabama boat registration is based on a staggered registration system. The first letter of an individual's last name determines the month of renewal. The renewal months in which a vessel owner shall register his vessel(s) is indicated below:

Boat registration payments may be processed in the office  with a credit card
for an additional convenience fee of 2.5%.
All boat renewals and registrations may be completed at either the Calhoun County Administration Building, the Alexandria Community Center or the Alvin E. Gibbs County Annex in Piedmont. You may also renew your boat registration through the mail or via the internet by Clicking Here to Renew.
Boating License Information:
Information involving boating licenses can be obtained from the Alabama Law Enforcement Agency – Marine Patrol Division. The boating booklet and test are available on-line. Once certification is obtained, you may add your vessel endorsement to your driver license at the Jacksonville State Troopers Examining Post, or any examination office in the state of Alabama.
Vessel licenses cannot be issued in either the Alexandria, Anniston, or Piedmont locations of the Commissioner of License offices.