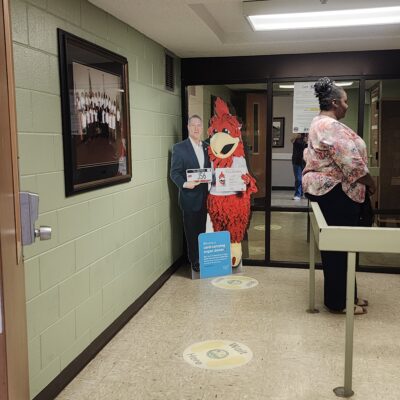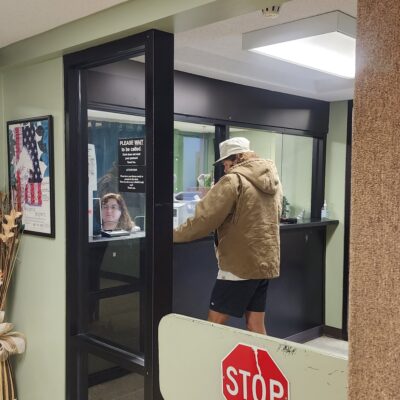 DRIVER LICENSE RENEWALS AND ISSUANCES
Driver's License Information:
Every Alabama resident who operates any motor vehicle must have a valid driver's license. All applicants who have not been licensed in Alabama or whose Alabama license has been expired for over three years must pass the required driver's examination given by the Alabama Law Enforcement Agency.
The driver's license manual may be viewed on the web at Alabama Law Enforcement's website  by clicking here.
Drivers License issuances can be obtained at the Jacksonville State Trooper's Examining Post on Hwy 21 just south of Jacksonville in Calhoun County.
1703 Pelham Rd South
Jacksonville, AL 36265
256-435-7006
Application for issuance should be made in your county of residence.
Study guides for the auto, motorcycle, and commercial vehicle are available online Alabama Law Enforcement Agency location. (Study guides will not be mailed.)
**All first-time issuances of Driver Licenses, CDLs, and Non-driver Identification must be made at an examining post. Any changes to the endorsements of a license, such as those pertaining to vision, vessel privileges, or motorcycle privileges must be made at an examination office.
The Calhoun County Commissioner of License Office is a renewal site only. No first-time issuances are made at either the Ken Joiner County Administration building or the Alvin E. Gibbs Annex in Piedmont.
**Driver License transactions are NOT processed at the Alexandria Community Center location.
Commercial Driver Licenses:
CDL licenses may be renewed at the Ken Joiner Administration building in Anniston or the Alvin E. Gibbs Annex Office in Piedmont as long as all DOT information is current with Alabama Law Enforcement Agency.
**Commercial licenses requiring hazmat endorsements cannot be renewed in Piedmont or Anniston.
If you wish to make changes to any portion of your CDL, or discontinue the license, the transaction must take place at an examination office. (Prices increased February 10, 2015.)
Fees for CDLs are listed below:
$66.25 to purchase class "A" license
$56.25 to purchase class "B" license
$36.25 to purchase class "C" license
$36.25 to purchase commercial learner license
Any questions regarding the issuance of first-time driver permits, driver licenses, privilege endorsements, non-driver identification or Commercial Driver License should be directed to an examination post. The number to the Jacksonville State Trooper's post is 256-435-7006 or www.alea.gov.  
STAR IDs
STAR IDs will be required for all US citizens boarding a domestic flight or entering certain regulated federal facilities after May 2025. Applicants for the STAR ID will need a minimum of the following:
Alabama Driver license
Social security card
Birth certificate
Two (2) forms of residency. 
Any questions regarding the accepted documents should be addressed to the Alabama Law Enforcement Agency at www.alea.gov 
**Please note: Name changes on the STAR ID must be made at an Examiner's Post.  However, addresses may be updated in Anniston or Piedmont on STAR IDs. 
Graduated Driver License:
The Alabama Driver License Issuance System has been updated to accommodate the following changes for young drivers with a learner's permit.  Once the driving instructor, on behalf of the Alabama Department of Education, uploads the completion of driver's education course and / or vessel license examination to ALEA's system, Alabama Law Enforcement Agency will remove the Y restriction from the database. ALEA will also be able to add the vessel endorsement (V) to the database.
The learner will be able to update their permit license to a Graduated License at the Commissioner of License Office.
The learner who has earned the V endorsement will be able to add their vessel endorsement to the license at the same time for a fee of $5.00
**Please note that applicants wishing to obtain the Star ID will still need to visit the Examiner's Post in order to obtain the Star.
Motorcycle License:
The motorcycle manual can be viewed on the Alabama Law Enforcement Agency's website or by clicking here. The motorcycle skill test is currently not applicable in Alabama; however, a written exam is required to obtain a motorcycle endorsement. For further questions please contact the State Trooper Office in Jacksonville at 256-435-3521.
Boating License Information:
Information involving boating licenses can be obtained from the Alabama Law Enforcement Agency. The boating booklet and test are available on-line. Once certification is obtained and uploaded into ALEA's mainframe, vessel endorsements may be added at any ALEA licensing office, including the Commissioner of Licenses Offices in Piedmont and Anniston. Please direct questions to the State Trooper Post in Jacksonville regarding the first-time issuance of a vessel privilege.
Non-Driver Identification Cards:
An individual seeking any license or identification card for the first time in Alabama will need to report to the Examining Post. For information regarding necessary documentation and hours, please visit www.alea.gov .
Renewals and Duplicates:
Alabama driver's licenses, non-driver identification cards, vessel licenses and motorcycle licenses may be renewed at the Calhoun County Commissioner of License Office in Anniston or at the Alvin E Gibbs County Annex in Piedmont. The fee for renewal is $36.25.  The fee for duplication, which includes address changes, name changes and replacement of lost or stolen IDs is $31.25.
You must present proper forms of identification at the time of renewal or duplication of an ID or driver license.  Please visit alea.gov for a complete listing of those documents.  Documents should include two of the following:
 A Social Security Card is required.
In lieu of a social security card, the following are acceptable:
DD-214 from US Military Service
School Enrollment form DL-1/93
W2 Tax form attached to the previous year's filed tax return

 
 A birth certificate is required.  
In lieu of a birth certificate, the following are acceptable:
Current US Passport
Alabama identification card
Alabama driver license
Temporary License or ID
NOTE: Xerox and FAX copies are  acceptable, as well as digital copies. You may be required to furnish additional documents to support your claim of identity. 
**Your social security card alone is not proof of identification. You will be required to show another form of documentation listed above.
Mandatory Liability Insurance:
Pursuant to Act 2016-361, if a person involved in a motor vehicle incident  was in violation of the mandatory liability insurance law and did not receive a citation at the time of the incident, they are subject to a civil penalty.
Failure to pay the civil penalty fees could result in a driver license suspension.  
All questions regarding license suspensions or penalty payments are to be directed to Alabama Law Enforcement Agency at 334-242-9000.
FOR YOUR CONVENIENCE: 
You may renew your Alabama Driver License 180 days in advance of your renewal at any driver license location.
Your license can be renewed on line once every 8 years by  visiting   www.alea.gov .  You will click on the "my driving" tab on the home screen and choose "renew my driver license".   
Please call 334-242-9000 for more information on renewing your driver license online.
Appointments are made at by visiting ALEA's website. 
Military Personnel
Military personnel out of state at the time of their renewal may contact the Alabama Department of Public Safety at http://www.alea.gov to download a form to submit a request for an out of state renewal.
Commercial Driver's Licenses:
All CDL licenses may be obtained at an examiner's post. Renewals with no updates or changes may be obtained at the Calhoun County Commissioner of License Office.  For questions regarding the renewal of a Commercial Driver License, visit www.alea.gov .
Reinstatements of Suspended Licenses:
Any reinstatements of suspended licenses and all questions need to be directed to an examiner's post. The number to call for driver license reinstatement is 334-242-4400.
For your convenience, Driver License Reinstatement Offices are located throughout the state of Alabama. You may inquire to any of the Reinstatement Offices throughout the state regarding the reinstatement of your Driver License.
Birmingham 205-252-0426
Huntsville 256-536-2365
Montgomery 334-242-4259
Jacksonville  256-782-1322
For a complete list of Reinstatement Offices statewide, or to reinstate your license on line,  please visit the Alabama Law Enforcement Agency's website at www.alea.gov
Driver License Fees
**Prices for Driver Licenses Increased February 10, 2015.**
Class D Operator License
$36.25
Vessel Operator License
$36.25
Motorcycle License
$36.25 (plus $5 test fee)
ID cards 62 yrs +
$5.50
Learner's License
$36.25 (plus $5 test fee)
Duplicate License
$31.25
Identification Cards
$36.25
Out of State License Transfers
$36.25 (plus $5 transfer fee)
**CDL licenses are to be obtained and renewed at an Examiner's Post.
**Reinstatements of suspended licenses are to be done at an Examiner's Post
TYPE
AGE
Identification Card
No Age Requirement
Class D Learner License
15 years old
Class D
16 years old
Motor Driven Cycle
14 years old
Vessel License
12 years old