Local official wants tougher state rules for door-to-door sales


by Brian Anderson
banderson@annistonstar.com Anniston Star
Aug 07, 2013 |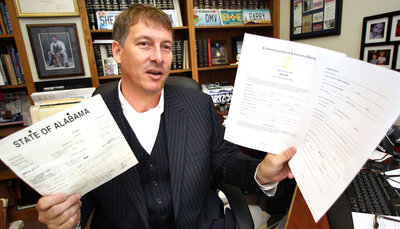 Calhoun County License Commissioner Barry Robertson with the paperwork that is necessary for door to door salesmen in his office at the County Administrative building in Anniston. Photo by Stephen Gross.
******************************************************************************
Recent legislation has put restrictions on door-to-door sales in Calhoun County, but some officials are now looking toward enacting tighter statewide laws on the practice.
Thanks to the passage of a bill sponsored by state Rep. Randy Wood, R-Saks, that took effect on Aug. 1, door-to-door salespeople in Calhoun County have to apply for individual licenses and go through criminal background checks at the Sheriff's Office before selling in county neighborhoods. The law also requires salespeople to wear their licenses while they work and attach signs to their vehicles with the name and contact information of the company they work for. The bill also prohibits selling after dark.
"Something needed to be done," said Wood, explaining he has received numerous complaints from residents about door-to-door salespeople using pushy tactics and acting suspiciously.
"Hopefully this will stop people from taking advantage of the elderly," he said.
But now Calhoun County License Commissioner Barry Robertson said he thinks the state should get on board with an all-inclusive law with similar restrictions throughout Alabama.
"The thing I've found in my research is this isn't just happening in Calhoun County," said Robertson, who has been studying laws on door-to-door sales in other counties and states. "This isn't just happening in Alabama. It's happening throughout the country."
Robertson said the push for a statewide identification badge is inspired, in part, by a law that's been in effect for more than a year in Huntsville that requires a city-issued identification card for door-to-door salespeople. Kevin Flory, a license inspector for Huntsville, said the tactic actually puts pressure on companies hiring salesmen. If the individual receives enough complaints, the entire company can be barred from selling in the city, he said.
"We need to have the company vouch for the seller," Flory said. "It makes them assure us the people selling in the city aren't criminals and are going to obey the laws."
Flory said Huntsville has issued 120 permits since adopting the law last summer. And the city also revoked one, he said, for an alarm company that received too many complaints.
How many door-to-door businesses actually bought licenses in Calhoun County before the new legislation passed is difficult to tell, Robertson said. Before the new law, only companies hiring door-to-door salespeople needed to buy a license. And those licenses weren't any different from licenses the county made street vendors purchase.
And so far, no one has purchased an individual door-to-door sales license.
"That's just the problem," Robertson said. "No one is procuring these licenses, so we don't know who's out there doing this."
Robertson said the idea behind the law isn't to generate revenue, but rather to keep residents safe. He mentioned an incident in Talladega County last month involving an alleged assault on a resident by a man who claimed to be a door-to-door salesman in a neighborhood near Munford as an example of why these licenses and background checks are needed.
Attempts to reach the Talladega County Sheriff's Office this week about the incident were unsuccessful, but a post on the Lincoln Police Department's Facebook page cautioned residents about an assault involving someone pretending to be a door-to-door salesman.
"Do not open your door for anyone selling anything," the post said. "We have had a terrible thing happen in our county where a woman was assaulted."
Nothing that drastic has happened so far in Calhoun County, but Sheriff Larry Amerson said the number of residents complaining about being ripped off by door-to-door scammers has skyrocketed in recent years.
"It's been ridiculous the number of people who've called with complaints the last four or five years," Amerson said. "These sellers come in, run through the neighborhood, sell items that are typically far overpriced, and then when the customer wants to complain, the seller is long gone, and the customer has no recourse."
Marcus Quinn, owner of Hoover-based MRM Marketing, which has a contract to sell Kirby vacuum cleaners, said his company already performs background checks on sellers, and encourages them to sell at reasonable times and to wear identification badges. Quinn said door-to-door sales is a tried-and-true method, and the salespeople he hires are just trying to achieve the American dream. Legislation restricting the practice, he said, is only hurting business opportunities in the community.
"This country and all 50 states, including Alabama, are coming out of one of the worst recessions since the Great Depression," Quinn said. "The state of Alabama should not enact any legislation that would negatively impact income-earning opportunities."
But Robertson said the idea isn't to take away business from legitimate sellers.
"The only thing we're asking is they get a license with us," Robertson said. "That way, people know who they are, and that they've had a background check."
Read more: Anniston Star – Local official wants tougher state rules for door to door sales